Our Latest Global Knitting Projects
What is a global knitting project? A global knitting project is one where knitters from around the
world can unite and knit (or crochet) for a common goal. Many of these projects are art related,
to advance the awareness and importance of the craft, but many more are for humanitarian and
charitable purposes.
These projects are not only fun to participate in, they also have an impact on the quality of life for
the people receiving them.
Spare a Square For Someone In Need

(If you were a regular Seinfeld watcher you will know the humor in this title)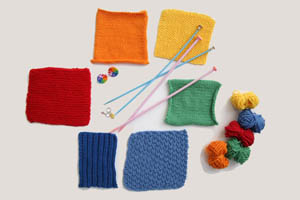 8" x 8" (20cm x 20cm) squares needed.
This is a fun knitting or crochet project that can be shared by young and old alike.
It's especially perfect for young knitters who are just learning to knit and lends well
to a school classroom as an aid to teaching community/global awareness and
instilling values in young children.
Bits of scrap yarn can be knit into squares and sent along to us to be sewn together
for such things as blankets and scarves.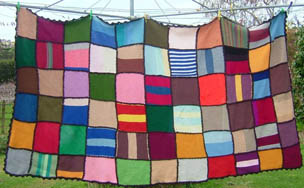 Why Should You Participate?
Hand made items not only serve the purpose of saving lives during cold weather months, they
also can have a very positive impact on a person's outlook on life. To know that there is
someone out there in the world that cared enough about them to make something just for
them is a big thing when you are feeling like you are all alone in the world.
Having participated in global knitting/crochet projects myself, I know how much fun it is and
how much more connected you feel to other crafters around the world.
A blanket may not seem like much to you, but for the vulnerable people around the world, it
can mean the difference between life and death. Many, many men, women and children die
every year of exposure to the elements in cold weather months. Your squares can save a life.
How To Participate in Saving Lives
Knit or crochet 8" x 8" (20cm x 20cm) squares
Contact us for the mailing address of where you should send your squares
Where will the Blankets Be Distributed?

The squares you send to use will be sewn together into blankets and scarves. These will be
distributed wherever there is the greatest need. We donate them to The Red Cross, orphanages,
homeless shelters, children's hospitals and any other organization or individual who is in need.

Want to participate but you do not knit? We gladly accept donations of yarn and other knitting
supplies or monetary donations so we can purchase these items.

Past Projects

Traveling Scarf Project -Update
Many have asked for an update on the Traveling Scarf. I am sorry to say that one participant did not
join in the true spirit of this project and has not passed the scarf on to the next person. This is truly
disappointing as it was a wonderful piece of work and so many were anxious to receive
their chance to knit on it.

For those who participated, I would like to give my deepest thanks and sincere apologies
that it did not turn out as planned. I am taking steps on the next project to ensure this does not
happen again.

Tons more patterns on our Knitting Blog